Archive for August, 2013
August 27, 2013 Posted by: Indy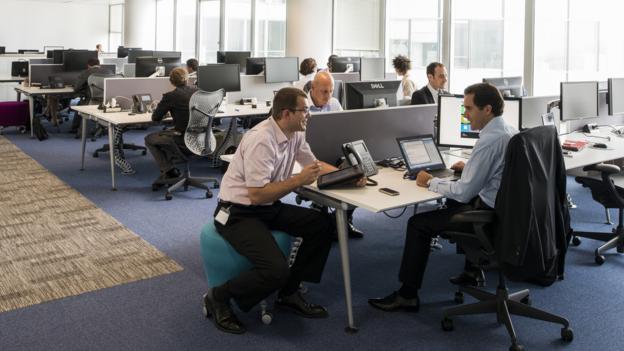 Globally, the move to open, collaborative work stations has been on the rise for the past five-to-10 years, said Kate Lister, president of Global Workplace Analytics, an international telework research and consulting firm based in Carlsbad, California.
European companies, long known for their collaborative, bench-style office seating, led the charge a few years before their American counterparts, she added.
According to the International Facility Management Association, 68% of North American employees work in an office with an open floor plan or open seating.  
Not everyone is singing the praises of these brave, new workspaces, however. For example, older employees, who have worked "their whole lives for the corner office," may have a harder time shifting to a non-hierarchical workplace, Lister said. The same goes for legal, financial and other professional firms, where proprietary client meetings and phone calls are the norm.
What's more, several recent studies from around the globe have blamed open offices for reducing employee productivity, compromising morale and even leading to an increase in absenteeism.
The open office backlash
Still, there's "evidence that the pendulum may have swung too far," Lister said.
Among the biggest issues: noise and privacy. As the size of workstations decreases and distractions in the office increase, employees struggle to stay focused.
Only one-in-four employees say their office environment fostered both collaboration and individual concentration, according to a 2013 study of open and traditional American workspaces by global design firm Gensler. More than half reported being disturbed by others when trying to focus.
By compromising the ability of employees to focus on individual tasks in the name of collaboration, the study concluded, the open office plan fails.
The case for collaborative space
A desire to cut real estate costs is a big driver for the shift, Lister said.
Thanks to mobile devices, remote conferencing technology and an increasingly global workforce, "people are spending 40% to 50% of their time at their desk," Lister said.
Rather than pay for all that unused space the rest of the time, companies are consolidating. This is especially true in countries that place a high premium on telecommuting, mobility and flexible work schedules, such as the US, Germany, the United Kingdom and the Netherlands.
A two space solution?
A happy medium between individual workspaces and open free-for-alls does exist. A mixed space that gives employees immediate access to both quiet, private spots for uninterrupted concentration and collaborative areas for conversing and working in teams, can go a long way toward resolving the tension, said Janet Pogue, global workplace leader at Gensler, the design firm.
Gensler's recent workplace study found that US employees spend a little more than half their time poring over individual tasks and a quarter of their time collaborating with teammates. Companies with floor plans that meet both needs will foster more productive, balanced employees.
Courtesy of BBC – full story here
Comments Off

on Hate open floor office spaces? There is a better way.