Archive for March, 2015
March 25, 2015 Posted by: Indy
Extract of article in www.mmqb.com Monday March 23, 2015  by Rob Kirkbride
When West Coast dockworker unions decided to stage a slowdown to protest stagnant contract talks, it tied up seaports responsible for handling about $1 trillion in cargo annually, mostly imports from Asia. That might not seem like a big deal to the office furniture industry, unless, of course, you want those casters made in Vietnam or the seat pans made in China that you need to build your chairs.
The office furniture industry like every industry is reliant on offshore components. That means shipping disputes like the one that involved 29 ports from San Diego to Seattle, can affect the industry more than many understand. The ports affected by the labor dispute handle about one-quarter of all U.S. international trade, including a great deal of office furniture.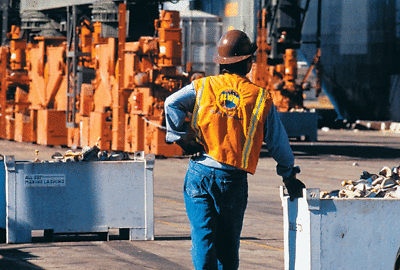 The strike ended late last month, but Stewart Brown of Independent Freight International, said the ripples from the labor strife will take months to smooth out. Brown specializes in handling freight for the office furniture industry. 'Equipment is still tight, he said. It might take another month of two to get the affected vessels back on schedule and get containers where you need them. Hopefully, we dont have to face this kind of excitement again anytime soon.
The standoff was a nightmare for U.S. businesses that use the West Coast ports to import and export their goods. For weeks, vessels carrying thousands of containers sat on the waterfront waiting to be loaded or unloaded and the problem grew exponentially worse when the union temporarily stopped all loading and unloading of ships last month.
When ships are sitting off the West Coast waiting to be unloaded because of a labor dispute, it throws the whole system off. About 68 percent of all shipping containers come through those ports. If the containers are not coming onshore, they are not going back out with exports either. That means outgoing office furniture shipments also were delayed by the strike.
Added to the shipping problems, East Coast ports, which were used to ease the strike backlog, were quickly clogged by the increase in traffic. The East Coast ports also slogged through a harsh winter. Its enough to make a shipping expert pull out his hair. But Brown has seen his share of shipping issues around the world to know it is beyond anyones control.
'You just try to keep people informed about whats going on, he said. You always have to keep them involved.
Brown also advises his customers to book early and plan ahead as much as possible. He works on multiple bookings for single shipments, which gives the shipper options should problems arise.
'Every industry was impacted, including office furniture, he said. 'In todays world, driven by logistics, where parts are shipped to China for assembly and shipped back to the U.S. for finishing, once you start messing with the supply chain, you are going to have problems.
Brown has spent years pushing the office furniture industry to seek markets overseas. He promotes an annual office furniture show in Dubai and works tirelessly to convince office furniture makers to expand into international markets.
'Things like this do not help, he said. 'I always actively try to promote export to people in the industry. Still, most of the U.S. office furniture manufacturing base has direct experience in the import process. They understand the issues that affect logistics.
For Rob's full article, please go to www.mmqb.com
Comments Off

on Freight disruption on West Coast causes Furniture delay
posted in: News
March 11, 2015 Posted by: Indy
Courtesy of Adrian Gonzalez – http://talkinglogistics.com/
Almost five years ago, UPS introduced the general public to logistics when it launched its "We [Heart] Logistics" ad campaign, which helped raise public awareness about the logistics industry — and helped my family and friends better understand what I do for a living.
This past Sunday, UPS launched a new ad campaign with the slogan "United Problem Solvers," which according to the press release, "communicates the company's unique capabilities to solve problems for all customers, ranging from small businesses to the largest global enterprises."
UPS wants people and businesses to think differently about the company and what it can offer, beyond "just thinking of our capabilities of making shipments from point A to point B," said Maureen Healy, vice president of customer communications. It's a goal shared by most third-party logistics providers (3PLs): getting customers to think of them from a broader, more strategic perspective.
But it's an ongoing challenge, as this comment by Alda Abbracciamento, worldwide managing director at advertising firm Ogilvy & Mather, who worked with UPS on the campaign, underscores:
"It's very hard to break through to have people think differently about UPS, because they think they know what they need to know about UPS. While very well-known, we've got to provide additional meaning to that."
I would argue that the challenge starts internally: getting a 3PL and its employees to think differently about their business, a challenge I wrote about last March in 3PLs, What Business Are You In?
What I like most about this new UPS ad campaign is that the company took a step back and asked itself that very question — What business are we in? — and came up with several new answers, which it communicates in this video:
We're in the "Pushing what's possible" business
We're in the "How do we get this startup off the ground?" business
We're in the "Taking your business global" business
We're in the problem-solving business
When you ask the "What business are we in?" question and think it through, you'll likely find new answers, which open doors to new opportunities and value propositions. As I wrote last March:
Yes, 3PLs provide customers with "multiple logistics services" like transportation management and warehousing, but they are also in the business of providing (among other things)…
Software applications, trading partner connectivity, and data quality management services that provide customers with timely, accurate, and complete visibility to supply chain events, information, and intelligence.
Thought leadership and advice — "Tell me something I don't already know" — so that customers can make smarter and faster decisions about their supply chain networks, strategy, and practices.
Risk management capabilities to help customers minimize or eliminate supply chain risks, and more importantly, to help them recover from supply chain disruptions faster and with less impact.
And when it comes to shippers, they have to stop putting 3PLs in a box. In the past, you had a box for freight forwarder, a box for broker, a box for warehouse operator, and so on. Over the years, service providers have busted out of those boxes — via mergers and acquisitions, new business models, and new product development — to pursue new growth opportunities, and to provide manufacturers and retailers with more complete, "end-to-end" supply chain solutions. So, put aside your existing biases and assumptions, stop putting 3PLs in a box, and focus on the question that matters the most when defining your supply chain strategies and initiatives: What are our desired outcomes?
I do have a problem (pun intended) with the new ad campaign: it suggests that problem solving is the sole focus of supply chain and logistics. It echoes the perception that supply chain and logistics is just about cost reduction and management. But we all know that supply chain and logistics is also about opportunity making, and about driving top-line growth, capturing market share, and improving customer satisfaction. UPS even says so at the end of the video — "[We're] ready to help you solve problems while they're still called opportunities."
I hope UPS promotes the opportunities part of the message too, and I have just the song for them to consider: Opportunities by the Pet Shop Boys, and my favorite lyrics from the song:
Oh, there's a lot of opportunities
if you know when to take them
You know there's a lot of opportunities
if there aren't, you can make them
(Make or break them)
So, go ahead UPS and other 3PLs, solve problems, but make opportunities too.
Comments Off

on Solving Problems or Making Opportunities? (Thoughts on the New UPS Ad Campaign)