Archive for October, 2015
October 21, 2015 Posted by: Indy
According to CEIR* research, exhibitions generate more qualified sales leads compared to any other marketing channels. But do trade shows work as a smart investment for companies and do they still have a place in your business strategy?
The answer is a definite yes on both counts. Here is why:
MARKETING MYTH #1: "TRADE SHOWS ARE LOSING OUT TO ONLINE MARKETING"
It is true that online marketing continues to be a popular low cost technique, however online lead generation is a timely process. Exhibitions offer invaluable face-to-face networking opportunities that online marketing cannot provide.
MARKETING MYTH #2: "TRADE SHOWS ARE NOT GOOD FOR LEAD GENERATION":
Trade shows are unique in that you are surrounded by thousands of new potential leads for your business. At workspace at INDEX, these are pre-qualified for you, so you can easily identify members of the Design Buyers Club, the Retail Buyers Club and The One VIP. Remember, 60% of visitors to workspace at INDEX 2015 were either decision makers or buyers and 22% of visitors had a purchasing authority in excess of $1 Million. So, each attendee of a trade show is a potential lead waiting to be captured.
MARKETING MYTH #3: "TRADE SHOWS ARE AN EXPENSIVE AFFAIR":
Trade shows remain an exclusive marketing medium as they offer direct engagement with your industry. They are an investment in the process of business development and should be considered as such. Don't forget, when it comes to influencing a decision, nothing can beat a face-to-face meeting. In 2015, workspace at INDEX brought together 16,800 members of the design community!
MARKETING MYTH #4: "THERE WILL BE A LOT OF COMPETITION":
Yes, you usually won't be the only company that offers a specific product at an exhibition. Win the exhibition battle by using innovative techniques to gather a crowd. Draw in buyers to your stand and remember, if you are not present, your competitor wins.
IF YOU INTEND TO SHOWCASE YOUR BRAND AT THE COMMERCIAL INTERIOR DESIGN HUB FOR THE MENA REGION THEN
IGNORE THE ABOVE MARKETING MYTHS
AS YOU WILL REAP THE BENEFITS IF YOU
BECOME A PART OF THE LARGEST AND LONGEST RUNNING COMMERCIAL DESIGN EVENT
PLAN WORKSPACE AT INDEX INTO YOUR 2016 BUSINESS STRATEGY:
how to CONTACT the TEAM:
CALL US:
+1 (847) 640 7277
* Center for Exhibition Industry Research (CEIR) Research Report: Let the Numbers Fight for You
Comments Off on Uncover the Facts
posted in: News
October 15, 2015 Posted by: Indy
Standing means being still, and that's a bad thing.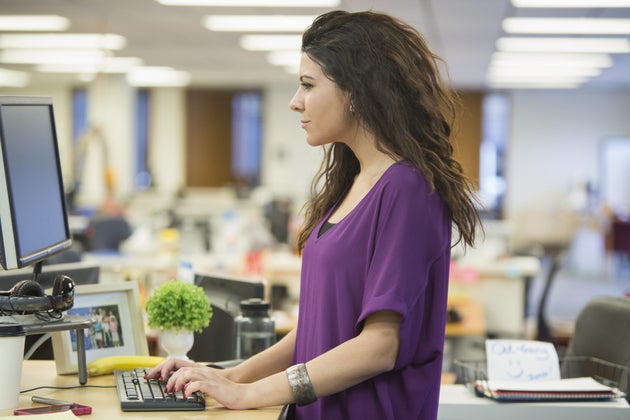 You've probably heard that keeping your rear planted in your desk chair for hours on end may be as much of a health hazard today as smoking was for previous generations.
Prolonged sitting has been linked to an increased risk of heart disease, cancer and even premature death. But at least we have standing desks to combat
the problem, right? Maybe not.
According to a new study, published online in the International Journal of Epidemiology on Oct. 9, standing at your desk may be no better than sitting, and that's because it's the being still that has the negative impact on your health. (Maybe it's time to replace your standing desk with a treadmill desk.)
For the study, the researchers monitored the behavior and health of 3,720 men and 1,412 women over the course of 16 years. Beginning in 1985, the London-based volunteers recorded how many hours a week they spent sitting.
At the end of the 16-year period, the researchers tallied the hours and then checked the National Health Service Central Registry and determined that 450 of the participants had died. But the researchers found no correlation between time spent sitting and mortality.
The findings challenge previous research showing that sitting for long periods can shorten your lifespan even if you exercise often.
"Any stationary posture where energy expenditure is low may be detrimental to health, be it sitting or standing. The results cast doubt on the benefits of sit-stand work stations," Dr. Melvyn Hillsdon, associate professor of Sport and Health Sciences at the University of Exeter in England and a co-author of the study, said in a written statement.
The researchers concluded that sitting itself won't kill you. Rather, a sedentary lifestyle in general may be what's harmful to your health.
"Research is not black and white, and if a single study finds X or Y that doesn't mean that this is the truth we should all go along with," Dr. Emmanuel Stamatakis, associate professor at the University of Sydney in Australia and a co-author of the study, said in an email. "The recent study findings are in disagreement with the rest of the literature and there must be a reason for this."
Courtesy : Huffington Post – Full article here
Comments Off on Sorry Folks, But Standing Desks May Not Make You Any Healthier