Archive for March, 2017
March 20, 2017 Posted by: Indy
Passengers on foreign airlines headed to the United States from 10 airports in eight majority-Muslim countries have been barred from carrying electronic devices larger than a cellphone under a new flight restriction enacted on Tuesday by the Trump administration.
Officials called the directive an attempt to address gaps in foreign airport security, and said it was not based on any specific or credible threat of an imminent attack.
The Department of Homeland Security said the restricted items included laptop computers, tablets, cameras, travel printers and games bigger than a phone. The restrictions would not apply to aircraft crews, officials said in a briefing to reporters on Monday night that outlined the terms of the ban.
The new policy took effect at 3 a.m. E.D.T. on Tuesday, and must be followed within 96 hours by airlines flying to the United States from airports in Amman, Jordan; Cairo; Istanbul; Jeddah and Riyadh in Saudi Arabia; Kuwait City; Casablanca, Morocco; Doha, Qatar; and Dubai and Abu Dhabi in the United Arab Emirates.
It applies only to flights on foreign carriers, and not American-operated airlines. Officials did not say how long the ban would remain in place or if other airports would be added.
Comments Off

on Update on in cabin electronics ban
March 20, 2017 Posted by: Indy
In a tweet this afternoon, Oneworld carrier Royal Jordanian dropped some big news — passengers flying on any of the carrier's flights to/from the US will be required to check most electronic devices, including laptops, tablets, cameras, DVD players and gaming devices. However, mobile phones and medical devices necessary during flight are exempt from the ban, which goes into effect starting tomorrow (March 21).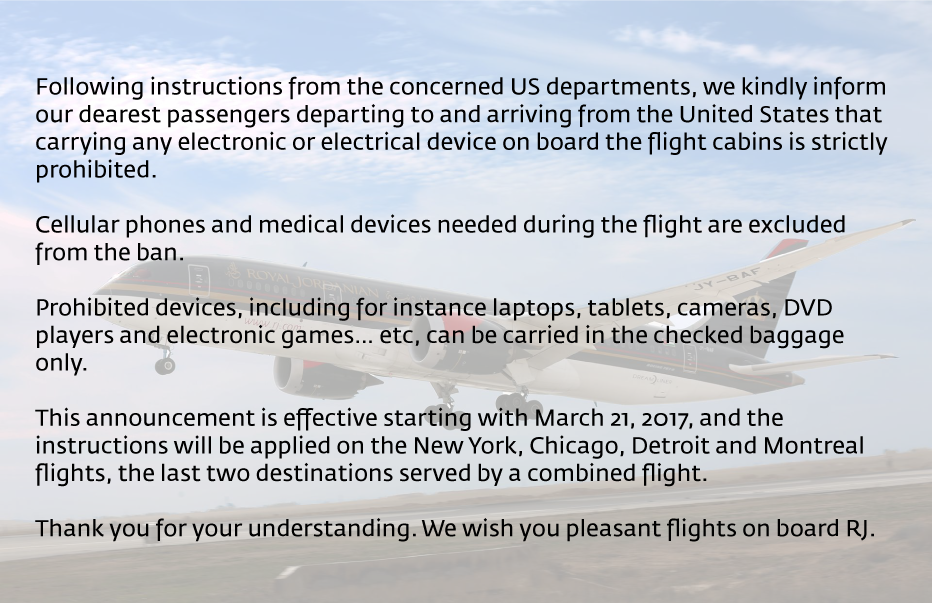 Comments Off

on Royal Jordanian bans most electronics in the cabin onboard flights to/from US