News
March 25, 2015 Posted by: Indy
Extract of article in www.mmqb.com Monday March 23, 2015  by Rob Kirkbride
When West Coast dockworker unions decided to stage a slowdown to protest stagnant contract talks, it tied up seaports responsible for handling about $1 trillion in cargo annually, mostly imports from Asia. That might not seem like a big deal to the office furniture industry, unless, of course, you want those casters made in Vietnam or the seat pans made in China that you need to build your chairs.
The office furniture industry like every industry is reliant on offshore components. That means shipping disputes like the one that involved 29 ports from San Diego to Seattle, can affect the industry more than many understand. The ports affected by the labor dispute handle about one-quarter of all U.S. international trade, including a great deal of office furniture.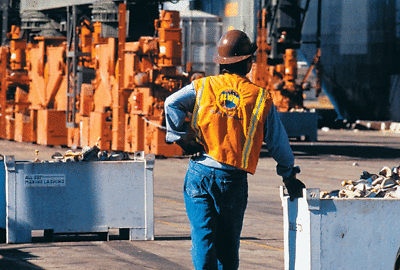 The strike ended late last month, but Stewart Brown of Independent Freight International, said the ripples from the labor strife will take months to smooth out. Brown specializes in handling freight for the office furniture industry. 'Equipment is still tight, he said. It might take another month of two to get the affected vessels back on schedule and get containers where you need them. Hopefully, we dont have to face this kind of excitement again anytime soon.
The standoff was a nightmare for U.S. businesses that use the West Coast ports to import and export their goods. For weeks, vessels carrying thousands of containers sat on the waterfront waiting to be loaded or unloaded and the problem grew exponentially worse when the union temporarily stopped all loading and unloading of ships last month.
When ships are sitting off the West Coast waiting to be unloaded because of a labor dispute, it throws the whole system off. About 68 percent of all shipping containers come through those ports. If the containers are not coming onshore, they are not going back out with exports either. That means outgoing office furniture shipments also were delayed by the strike.
Added to the shipping problems, East Coast ports, which were used to ease the strike backlog, were quickly clogged by the increase in traffic. The East Coast ports also slogged through a harsh winter. Its enough to make a shipping expert pull out his hair. But Brown has seen his share of shipping issues around the world to know it is beyond anyones control.
'You just try to keep people informed about whats going on, he said. You always have to keep them involved.
Brown also advises his customers to book early and plan ahead as much as possible. He works on multiple bookings for single shipments, which gives the shipper options should problems arise.
'Every industry was impacted, including office furniture, he said. 'In todays world, driven by logistics, where parts are shipped to China for assembly and shipped back to the U.S. for finishing, once you start messing with the supply chain, you are going to have problems.
Brown has spent years pushing the office furniture industry to seek markets overseas. He promotes an annual office furniture show in Dubai and works tirelessly to convince office furniture makers to expand into international markets.
'Things like this do not help, he said. 'I always actively try to promote export to people in the industry. Still, most of the U.S. office furniture manufacturing base has direct experience in the import process. They understand the issues that affect logistics.
For Rob's full article, please go to www.mmqb.com
Comments Off

on Freight disruption on West Coast causes Furniture delay
posted in: News