Tag: overseas markets
October 5, 2016 Posted by: Indy
Independent Freight is extremely pleased to announce our partnership with Overseas Markets LLC, founded to work together with North American manufacturers to take advantage of the opportunities being presented for their products in international markets.
As featured in this week's edition of Business of Furniture, the company is focused on providing instant expertise in global trade to manufacturers in the Commercial Interiors Industry, without the manufacturer requiring any existing in-house resource or expertise.
Uniquely, Overseas Markets provides services on a transactional basis, working outside of traditional sales structures, allowing manufacturers to take advantage of international opportunities as they may arise without risk, complexity or commitment.
On behalf of the manufacturer, OM qualifies international inquiries, identifying requirements, processing proposals, handling documentation, shipping and securing payment – taking full responsibility for the transaction throughout without any cost to the manufacturer.
Overseas Markets has partnered with Independent Freight to provide the logistics expertise for their transactions, and will provide warehousing, customs and documentation consultancy and support, shipping, end user logistics, installation and project planning to all points worldwide.
We are extremely pleased to work in close partnership with OM in bringing North American products to international customers and wish them all best wishes on their activities.
For further information on Overseas Markets LLC, contact :

Beth Hassler, Executive Director, Overseas Markets LLC
beth@om-us.com, Tel : +1 (312) 242 1600
www.om-us.com
Comments Off

on Overseas Markets appoints Independent Freight as Logistics Partner
posted in: News
September 5, 2016 Posted by: Indy
Until very recently, Hanjin Shipping was South Korea's largest and one of the world's top ten container carriers.
Hanjin is filing for court bankruptcy protection in about 10 countries, including Canada, Germany and the U.K. this week and later expand that to 43 jurisdictions to protect its ships and other assets from being seized by creditors, and the company is taking further legal action in countries beyond the U.S. for protection of its assets as it works to get a frozen supply chain moving again, with more than half its vessels stranded in ports world-wide and at sea.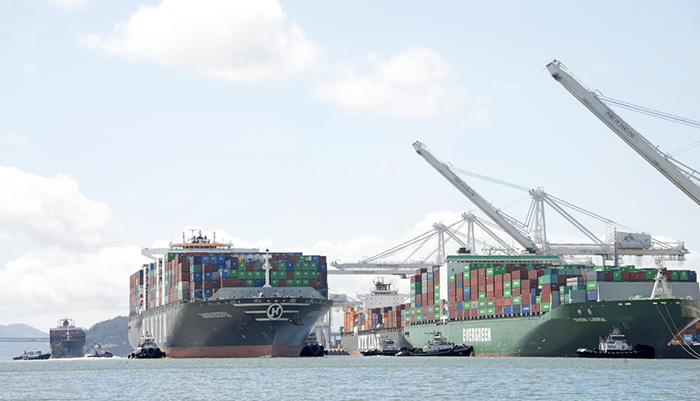 Hanjin ships have been seized by creditors or turned away from ports, with terminals refusing to work with the company's cargo for fear they won't get paid. Analysts say Hanjin should seek to file for bankruptcy protection as quickly as possible in the jurisdictions it operates in to get ships back to port and containers unloaded.
Chinese ports and terminals that accepted Hanjin ships before the company announced bankruptcy proceedings are charging container-handling deposits of up to $1,800, say freight agents. Seven Hanjin ships remain stranded outside Chinese ports.
Hanjin is the largest shipping company in Korea, operating about 60 regular lines world-wide and transporting over 100 million tons of cargo a year, according to court papers. Its failure would be the largest in the history of the container-shipping industry, dwarfing all previous carrier bankruptcies.
Hanjin's bankruptcy filing has sent spot shipping rates soaring by as much as 40% on routes from Asia to the Americas, according to analysts.
On the West Coast, terminal operators in Los Angeles and Long Beach are unloading all of the containers from the vessels. Containers that do not belong to Hanjin are processed according to normal procedures and terminals are holding onto import loads in Hanjin containers and will deliver the containers to truckers only if the beneficial cargo owners pay the terminal cargo-handling charges upfront. The terminals are not accepting Hanjin export loads and empty containers.
At the Northwest Seaport Alliance of Seattle and Tacoma there were no Hanjin vessels in port on Friday, according to spokesperson Tara Mattina. The Hanjin Scarlet is due to arrive at Terminal 46 in Seattle on Saturday, although the schedule may not hold up. As of Friday, the was anchored outside Prince Rupert, British Columbia, where its entry was refused, she said.
Terminal 46 is now accepting import containers, but is not accepting export loads and empties. Olympic Container Terminal in Tacoma is not accepting any Hanjin deliveries for now and the Husky Terminal is not accepting exports or empties, but is unloading imports and is encouraging truckers to bring their own chassis, Mattina said.
In Vancouver, Global Container Terminal said it will no longer receive Hanjin ships. One Hanjin ship is at the port waiting to be moved on.
On the East Coast, the largest terminal in the Port of New York and New Jersey, Maher Terminals, has made no statement on if, or how much, shippers must pay to get Hanjin containers. However, the terminal has told customers that Hanjin import deliveries must be pre-paid and that Hanjin exports won't be accepted. One motor carrier advised he was required to pay $395.20 per container to cover stevedoring charges before he could remove a Hanjin box from the terminal.
Maher is the only New York-New Jersey terminal that receives Hanjin ships, and APM Terminals, Port Newark Container Terminal, and Global Container Terminals didn't disclose how they are handling Hanjin containers.
Down the coast in Baltimore, Ports America Chesapeake, which operates the Seagirt Terminal in Baltimore didn't disclose how it's handling already received Hanjin containers. The terminal did say it will not accept any inbound Hanjin cargo, and they will continue receiving but not delivering Hanjin empty containers. The Maryland Port Administration said a barge loaded with Hanjin containers is sitting in the port.
At the Port of Virginia, Hanjin export containers may be picked-up at the terminals by the original shipper only with authorization from Hanjin. In these occurrences, all terminal service charges shall be waived and the shipper will be responsible for all associated chassis charges and fees. All import containers on terminal by Tuesday with the appropriate documentation will be available per normal policy. Starting Wednesday the charge to release Hanjin import containers will be $325, but all demurrage charges will be waived and shippers must have authorization from Hanjin.
At the Port of Wilmington, North Carolina, a Hanjin ship, Seaspan Efficiency, left late Tuesday and cargo from the vessel is being stored at the port. "North Carolina Ports will deliver all import loads and receive back all empties (originally discharged and currently at the Port of Wilmington), including Hanjin Shipping containers," said a spokesperson.
Further south, the South Carolina Ports Authority has waived the non-vessel delivery fee for export loads out-gated and all import loads discharged on or after September 1 will be placed on hold until such time as all SCPA charges are settled. The South Carolina Ports Authority will collect all port and throughput charges totaling $350 per container from the BCO/responsible party with authorization required from Hanjin. This process will be further refined, but payment is required prior to manual release of hold and outgate.
The Georgia Ports Authority, which oversees the second-largest port on the East Coast, Savannah, wasn't available to comment, nor was Port Miami. The Port of Jacksonville said it does not have any calls from Hanjin or other CKYHE Alliance members.
Along the Gulf Coast, Houston is holding containers until they receive $100 to cover the Port of Houston Authority's terminal throughput charges, which are separate from stevedoring costs. The port authority is considering whether to also require guarantees or payment for stevedoring bills for Hanjin boxes that will be discharged from a China Cosco Shipping vessel expected in next week.
Mobile only had three Hanjin containers at the terminal so the operator there, APMT, is checking with the individual customers to see how they would like to proceed. New Orleans, like Jacksonville, has no Hanjin or other CKYHE calls.
Hanjin's unprecedented bankruptcy will have a significant impact on the cost and effectiveness of all container shipping routes worldwide, so please contact your forwarder to confirm how this may affect you !
Courtesy : WSJ, JOC, CBS, BBC, Reuters
Comments Off

on The implications for shippers and importers of Hanjin's bankruptcy
posted in: News